Our Tele-Health Portal

The Newmarket Therapy Centre is offering online therapy services via our secure confidential tele-health platform. You can easily connect with one of our therapists in the comfort of your own home with a computer, tablet or smart phone. (No complicated downloads). Our experienced team of psychotherapists are here to offer you the guidance and tools to support your mental health during these challenging and stressful times. Expect the same level of dedication, care and expertise our therapists have been widely known for in the community.

Research Validates the Efficacy of Online Therapy

Although online therapy cannot replace the therapeutic experience of face-to-face meetings, there is research validating the efficacy of online therapy, specifically Cognitive Behavioural Therapy. Popularly known as CBT, research has found online CBT to effectively reduce symptoms of depression and other mental health issues. In some instances, online CBT was more effective than traditional in-person therapy.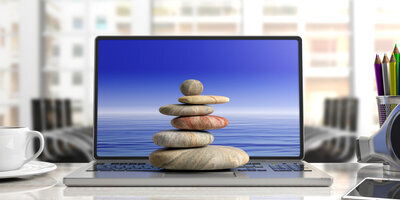 Online Therapies

Online Cognitive Behavioural Therapy (CBT)

If you are experiencing stress, anxiety, panic, or depression, online therapy incorporating Cognitive Behavioural Therapy skills can be very effective reducing symptoms in the short term. Our therapsits will give you the confidence to master these skills so you can improve and regulate your mood. CBT is also very effective in helping to manage anger, improve communication skills, and handling conflict.

Online EMDR Therapy Can Help You Cope From Stress, Trauma & PTSD

The Newmarket Therapy Centre is also offering online Eye Movement Desensitization & Reprocessing Therapy (EMDR) adapted online. EMDR is an evidence based, scientifically validated psychotherapy for the treatment of childhood trauma, PTSD, and attachment issues. Although online EMDR does not specifically go into deep trauma processing online, the online version of EMDR can effectively manage the effects of trauma by increase your capacity to self-regulate emotions, ground, self-soothe, and to find resourceful ways to deal with challenging situations. EMDR uses a method called Bilateral Stimulation (BLS) which accelerates the brains information processing and facilitate neural network connections needed for psychological healing.

Online Internal Family Systems Therapy (IFS) Can Help Couples Move Past Hurt & Conflict to Resolution

For couples experiencing distress, online therapy can provide couples the tools they need to become not only more effective communicators, but to become more accepting and empathic of differences. Online Internal Family Systems Therapy (IFS), can help couples understand the roots of their dysfunction and to learn to communicate form a place of health and authenticity. A healthy attachment bond is imperative during these turbulent times and maintain a strong, cohesive family atmosphere is necessary to reduce stress, fear and anxiety.

Mindfulness, relaxation training, guided visualization, and regulation of the nervous system are other therapies that can be effectively delivered within an online format.

Managing your stress response is very important right now. Increased levels of prolonged stress decreases immunity. Keeping a balanced perspective, releasing tension from the body, and staying in a relaxed state of mind are important factors contributing to immune health.
CALL OUR INTAKE MANAGER, SUSAN GRAHAM, AT (289) 500-8039 TO GET SET UP FOR ONLINE THREAPY.