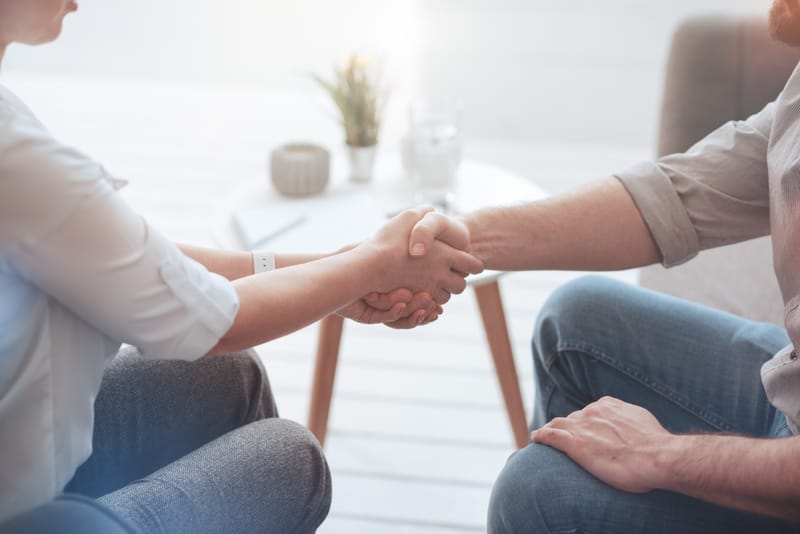 What is Psychotherapy?
The goal of psychotherapy is to help you relieve distress, find new ways of coping with your challenges, and to develop the "mindset" that will help you to obtain your goals. It is a form of treatment where the client and therapist work together collaboratively to explore unhelpful attitudes, behaviours, and habits and seeks to change them.
Psychotherapy is about learning about yourself, your capabilities, and how to connect more mindfully. It can help to resolve issues from the past, resolve inner conflicts, and release suppressed and buried emotions. Overall, Psychotherapy is an investment into a relationship with your therapist where you will receive the support you need.
Psychotherapy can also be an exciting process. Our brains are wired in such a way where "learning about ourselves," is linked to "feeling good." This is an important survival response to get out of the "stuck state cycle." With more knowledge and understanding there is more choice and confidence to solve problems and move forward successfully.
LEARN MORE ABOUT OUR MISSION & APPROACH
Starting Therapy
Starting therapy can be challenging and experiencing anxiety at the onset is normal. Therapy is a process and it takes a bit of time to be able to get to the place where you can feel comfortable opening up and sharing your story. We understand what it means to start this journey. Every effort on our part will be made to make you feel accepted, validated, and supported with the issues you bring. Our mission is to ensure that you gain the knowledge, skills and tools to feel empowered to overcome the obstacles that you may be facing. Our therapists are trained in evidence-based, cutting-edge therapies which are designed to help you make sense of your experience, identify patterns that no longer serve you, and learn the behaviours that will bring lasting change.
If you would like to learn more about our therapists and the therapies we provide please explore the website . You will find information on the background of our therapists in addition to detailed information on the therapies we use to assist clients. If you would like to book a consultation or appointment please contact our
Intake Coordinator Jodie at (289) 803-2628, or send us an email us at Appointments @NewmarketTherapy.com.
Our Psychotherapists
Our therapists are all Master's level trained and are certified and registered professionals. The therapeutic team is very committed to ongoing learning and continuing education in order to provide you with the most effective therapeutic experience. Please explore the therapists profiles, or call our intake department to learn more about them. Alternatively, if you would like us to choose a therapist for you then that can be easily arranged. Our intake team will discuss your needs and match you with the 'best fit." Even if you do not feel that you connect wiht the therapist, please let us know. We will ensure that you will receive a therapist that can be the most helpful for you.

LEARN MORE ABOUT OUR THERAPSITS
We Treat Individuals, Couples, Families, Children & Adolescents
We specialize treating anxiety, depression, and the effects of trauma and post-traumatic stress disorder with evidence based psychotherapies such as Cognitive Behavioral Therapy (CBT), Dialectical Behaviour Therapy (DBT) and EMDR Therapy. Additionally, a wide variety of issues including addiction (substance & behavioural), personality disorders, relationship problems, eating disorders, attachment issues, couples therapy, family therapy, child and adolescent therapy, and parenting supports.
LEARN MORE ABOUT THE ISSUES WE TREAT
Psychotherapy Methods
There are various methods used in psychotherapy to help you change. We use a combination of evidence based methods and cutting edge therapies to help you to get down to your issues at the root cause and relieve distressing symptoms.
Cognitive Behavioural Therapy (CBT)
Interpersonal Therapy
Dialectical Behaviour Therapy (DBT)
Acceptance and Commitment Therapy (ACT)
Internal Family Systems (IFS)
Psychodynamic Therapy
Emotion Focused Therapy (EFT)
Gestalt Psychotherapy
Eye Movement Desensitization & Reprocessing (EMDR)
Mindfulness
Solution Focused Therapy
Artistic Therapies including Music , Psychodrama & Art Therapy
Craniosacral Therapy
Somatic Experiencing
Clinical Hypnotherapy
LEARN MORE ABOUT OUR METHODS

Getting Started & The Process
Call or email our intake specialist for your telephone intake assessment. Our intake specialist will explain the therapeutic process more in detail and answer any questions that you may have. Perhaps you have a therapist already in mind or maybe you would like us to chose a therapist for you. Regardless, our intake specialist will provide you detailed information on our Registered Social Workers and Psychotherapists and their areas of expertise. We will ensure that you will be referred to a therapist who is best suited to meet your unique needs. Please expect approximately 20 minutes to complete the intake process by phone. Your first session will be scheduled for you by the intake specialist. Ongoing sessions may be directly booked with your therapist or conveniently online. If you will be using insurance benefits for the cost of therapy, please have this information available at the time of the intake.
FOR ONLINE APPOINTMENTS: If you are seeing your therapist via online video conferencing, our intake team will get you set up and ready. Our software is easy to use. You will simply receive a link to access the "virtual waiting room," through your appointment confirmation email. When it is time for your appointment, simply click the link and you therapist will appear on your screen. No complicated set ups or downloads. All our documentation between you and your therapist are moderated by secure methods.
First Meeting with Your Therapist. The first meeting with your therapist is very important. Your therapist needs to gather pertinent information including your current functioning, background history, medications and other health related information. It is important to have this information available for your therapist. Your therapist may also administer some questionnaires which may provide further information about your current functioning.
Treatment Plan: By the second or third session your therapist will have a treatment plan completed fo you. The treatment plan will include mutually agreed goals to work through, the underlying mechanisms perpetuating symptoms, and the therapeutic modalities that will be used in therapy. Your therapist may recommend other services including workshops, group therapy programs, or other wellness services that may be beneficial.
Duration of Therapy: There is no set time for therapy. Our therapists work both in brief therapy models (therapy lasting between 6 and 10 sessions) or long term therapy (lasting months or even years). In many instances finances and time are limitations. Our therapists are trained in therapeutic modalities that are "brief" in nature but also work towards accelerating the therapeutic process by minimizing or resolving persistent and distressful symptoms. Your therapist may recommend commencing therapy weekly, but then gradually transitioning you to bi-weekly and monthly appointments. Empirical research evidence does suggest regular, consistent therapy produces better outcomes.
Satisfaction in Therapy: We want to make sure that you are satisfied with the service you are receiving at Newmarket Therapy Centre. If you are experiencing difficulties with your therapist, or feel that you are not progressing in therapy, we want to know. Please inform our intake specialist if you have concerns. If a therapist change is required, or if clients want to try other therapies provided by other therapists, we can co-ordinate the transition for you.
REQUEST AN INTAKE ASSESSMENT BY PHONE
Important Information
COVID -19 PROCEDURES FOR IN-OFFICE APPOINTMENTS
If you are attending an appoinment in-person at the office, please come to the office at the exact time of your appoinment. As part of our COVID-19 procedures, the waiting room area will be greatly restricted. You will notice there are two designated chairs in the waiting room area that you may sit in while waiting for your appoinment. Please ensure you sit in a chair that has been cleaned, and please turn over the designated sign on the chair alerting a staff member to clean the chair before the next person sits down.
Before attending your appoinment you must complete the COVID-19 SCREENING QUESTIONNAIRE found in your confirmation and appoinment reminder emails. Please complete the screening questionnaire electronically and submit it THE DAY OF YOUR APPOINTMENT. The online screening form needs to be completed for each sessioin. Your therapist will not meet with you until the screening questionnaire has been completed. If you do not meet the screening criteria your appoinment will be rescheduled.
When you enter the office please ensure that you are wearing a mask or cloth face covering and please sanitize your hands shortly after entering. Sanitizer is located throughout the office. If you forget your mask one will be provided for you. All of the offices have been configured for appropriate social distancing. It is not mandatory to wear a mask while in session; however, we ask that you put your mask on before exiting the building or going to the washroom. Please alert your therapist if you prefer masks to be worn in the session. Some therapists will only see you if you are wearing a mask. All of the office furniture, including couches and chairs, will be cleaned and sanitized after each session.
If you are exhibiting symptoms of a cold or flu at the time of your appoinment, DO NOT COME TO YOUR APPOINTMENT. Please alert your therapist and the appoinment will be rescheduled.
YOU WILL FIND THE COVID-19 SCREENING QUESTIONNAIRE IN YOUR CONFIRMATION AND REMINDER EMAILS. THEY MUST BE COMPLETED PREVIOUS TO EACH SESSION.

I will be coming into the office for an in person session.
Do you currently have a fever, new onset of cough, worsening chronic cough, shortness of breath, or difficulty breathing?
Have you had close contact with anyone with acute respiratory Illness or travelled outside of Canada in the past 14 days?
Do you have a confirmed case of COVID-19 or had close contact with a confirmed case of COVID-19 at any point in time?
Do you have any of the following symptoms: sore throat, runny nose/sneezing, nasal congestion, hoarse
voice, difficulty swallowing, decrease or loss of sense of smell, chills, headaches, unexplained fatigue/malaise, diarrhea, abdominal pain or nausea?
Please explain any of the above that were answered with a "Yes".
OUR LOCATION: Our offices are conveniently located at 436 Queen Street, at the intersection of Queen and Main, in historic downtown Newmarket. The office is easily accessed by public transit.
PARKING: We have plenty of parking. There are reserved parking spaces adjacent to the office building identified as "Newmarket Wellness." If you cannot find a reserved spot, there is plenty of parking within the lot. You can access the parking lot on Queen St and Main St.
INSURANCE: Our services are covered under most insurance plans. Please check with your benefits provider regarding your personal coverage. PLEASE NOTE: Many of our clinicians are supervised by other regulated mental health professionals under a "Supervised Practice Model." This means if you want to see a Psychotherapist but only have coverage for a Psychologist or Social Worker, you can still have the therapy covered with the Psychotherapist as long as they are supervised by the regulated professional. Please inquire with our intake team questions you may have regarding coverage.
ONLINE THERAPY OPTION: The Newmarket Therapy Centre now offers online therapy via video conferencing. Online therapy is a convenient option if you are unable to travel to our office. It may also be combined with in-office sessions with your therapist. Call our intake department to learn more.
ARRIVAL: When you arrive to our centre have a seat in our spacious and relaxing waiting area. Help yourself to a book or magazine from our library. Make yourself a hot cup of herbal tea, water or coffee. Please wait until your therapist comes to greet you at your allocated time. There is a security code needed to enter our office. This code will be provided to you in your therapy confirmation email.